Description
The Snowdonia IT Services membership system provides a web-based product which allows secure storage of members' details. It is ideal for clubs, societies, mountain rescue teams, and other similar organisations.
System Features
Adding an unlimited number of additional fields allows you to customise the information you store about you members.
Encrypting additional fields helps to ensure your members' personal data is kept secure.
MailChimp integration allows you to easily manage your mailing lists.
Member Types allow you to use the system for more than one group of members. For example a mountain rescue team may have team members, and a support group.
Membership can run from a fixed date, or can last for a specific period from joining.
You may write a privacy policy for each Member Type. Members are show, and asked to agreed to, the policy when they next log in.
Member Classes allow you to split a Member Type up in to sections such as junior and senior membership. Each Member Class can have a different joining fee.
If you are a UK Charity you can ask members to indicate whether they would like Gift Aid to be added to their subscriptions. This will give your charity extra income.
Member features
Mobile friendly responsive interface which works well on desktop computers and mobile devices.
Members can join online using a range of payment methods. The system currently supports PayPal, Secure Trading and offline payments, such as cheque. If your chosen payment method is not supported please Contact Me.
Members can manage their own personal data so you don't need to spend time updating their records.
Members can receive automatic renewal reminders before their membership expires.
MailChimp integration allows members can manage their own mailing list subscriptions.
If a Member's membership lapses, they can be automatically moved to a separate Member Type.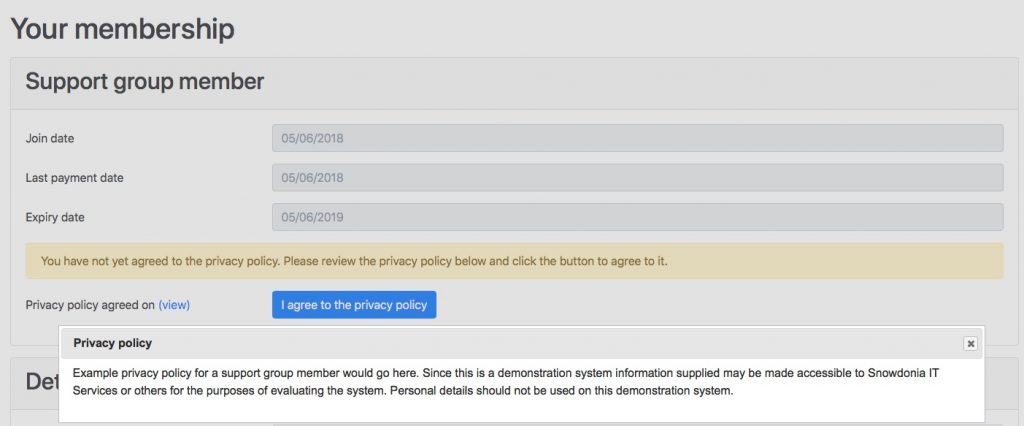 Administrator Features
You can set up administrators with different permissions so they only view data that they need to see.
If you are importing initial records from an existing system you can upload an Excel Spreadsheet thus saving a lot of typing.
Administrators with appropriate permissions can view, edit, and download details of members.
Administrators can see a table of all members based on their permission. Searching and sorting allow administrators to easily find specific members.
If you have appropriate permission you can see details of orders placed to help with accounting.

GDPR
The General Data Protection Regulation applies to data controllers and data processors. Details of the regulation can be found on the Information Commissioner's Office website. In terms of compliance with the regulation, the membership system assists you in the following ways:
Right of access: members can see all information which you store in the system that relates to them.
Right to rectification: members can update their own personal information, if you give them permission to do so.
Right to erasure: members can delete their own account, if you give them permission to do so.
Right to data portability: members can download their personal data in an Excel spreadsheet.
Right to be informed: you are able to create a privacy policy which is shown to members when they join. If the privacy policy changes members are shown the new policy when they next log in. Details of changes to the privacy policy are recorded.
Protecting information: additional fields in the database can be encrypted.
Consent: members can manage their MailChimp mailing list subscriptions.
Buying the Membership System
The Membership System is available to purchase above. If you have any questions about the system please Contact Me. If you do not want to install the system yourself I can provide this service for £90.00. Please Contact Me if you would like to use this service.